PEMBELAJARAN ASG: FORMASI OMK SEBAGAI AGEN PERUBAHAN GEREJA DAN MASYARAKAT
Liria Tjahaja

Universitas Katolik Indonesia Atma Jaya

Yap Fu Lan

Unika Indonesia Atma Jaya
Keywords:
Catholic social teaching, young people, social-change agents
Abstract
For more than one century, Catholic social teaching (CST) has become the wealth of faith of the church.  Nonetheless, CST has not been made known to lay people at the grassroots level, in particular to young people. This article contains the results of two studies on this issue. The studies were conducted in 2012 and 2015-2016 involving young Catholics who were students of Catholic schools in Jakarta and its surrounding areas. The result of the first study in 2012 showed that most young Catholics have a lack of knowledge about CST. The second study was carried out in two phases. In 2015, the first phase of study was in the form of workshop and a CST-themed-film-and-photography competition. Forty students from eight Catholic high schools in Jakarta and Bogor participated in both the workshop and the competition. The second stage of the study was done in 2016 through focused group discussions and interviews involving young Catholics, their teachers, and the heads of their schools. The foci of this second stage study was CST learning process and its impacts to the life of young people. The processes as well as the results of these two phases of study were scrutinized. The final finding was the ideas of learning CST that functions as a formation of social-change agents. The ideas include features of process, learning content, peer group characteristics, and opportunities for interreligious, intercultural, and intergeneration education.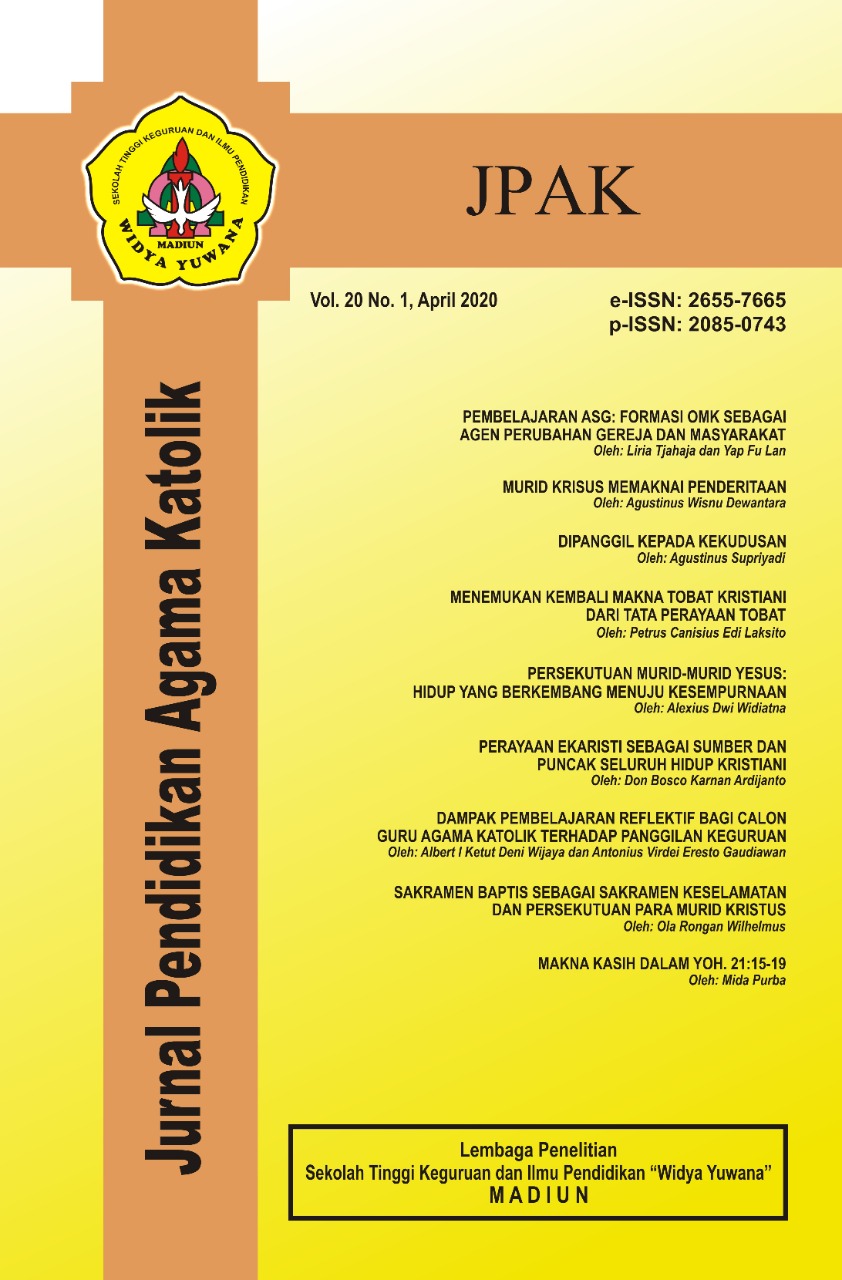 Copyright (c) 2020 Liria Tjahaja, Yap Fu Lan
This work is licensed under a Creative Commons Attribution-NonCommercial-ShareAlike 4.0 International License.

This work is licensed under a Creative Commons Attribution-NonCommercial-ShareAlike 4.0 International License