DAMPAK PEMBELAJARAN REFLEKTIF BAGI CALON GURU AGAMA KATOLIK TERHADAP PANGGILAN KEGURUAN
Albert I Ketut Deni Wijaya

STKIP Widya Yuwana

Antonius Virdei Eresto Gaudiawan

STKIP Widya Yuwana
Keywords:
Reflective Learning, Catholic Teacher candidate, Teacher Vocation
Abstract
Many research has been done on reflective learning. Various studies have shown that reflective learning has a positive impact on students in capturing learning material. Seeing the results of the study, researchers wanted to see how reflective learning can help prospective Catholic teacher teachers increasingly become teachers. Becoming a true teacher is a noble calling, even more so becoming a religious teacher. Because being a religious teacher is not enough to just convey material or transfer knowledge but it must also be accompanied by example in everyday attitudes and actions. Based on the situation above, the researcher formulated 2 problems. First, what is the reflective learning model given to prospective Catholic teachers? Second, how does reflective learning impact Catholic teacher candidates on teacher vocations? This research uses descriptive qualitative research. Data collection techniques were carried out using the FGD (Focus Group Discussion) method. Analysis of qualitative research is inductive. Based on the results of the study, it was found that reflective learning had a great impact on the vocational vocations of Prospective Catholic Religious Teachers. Thus, reflective learning models really need to be developed in the learning process for prospective religious teachers.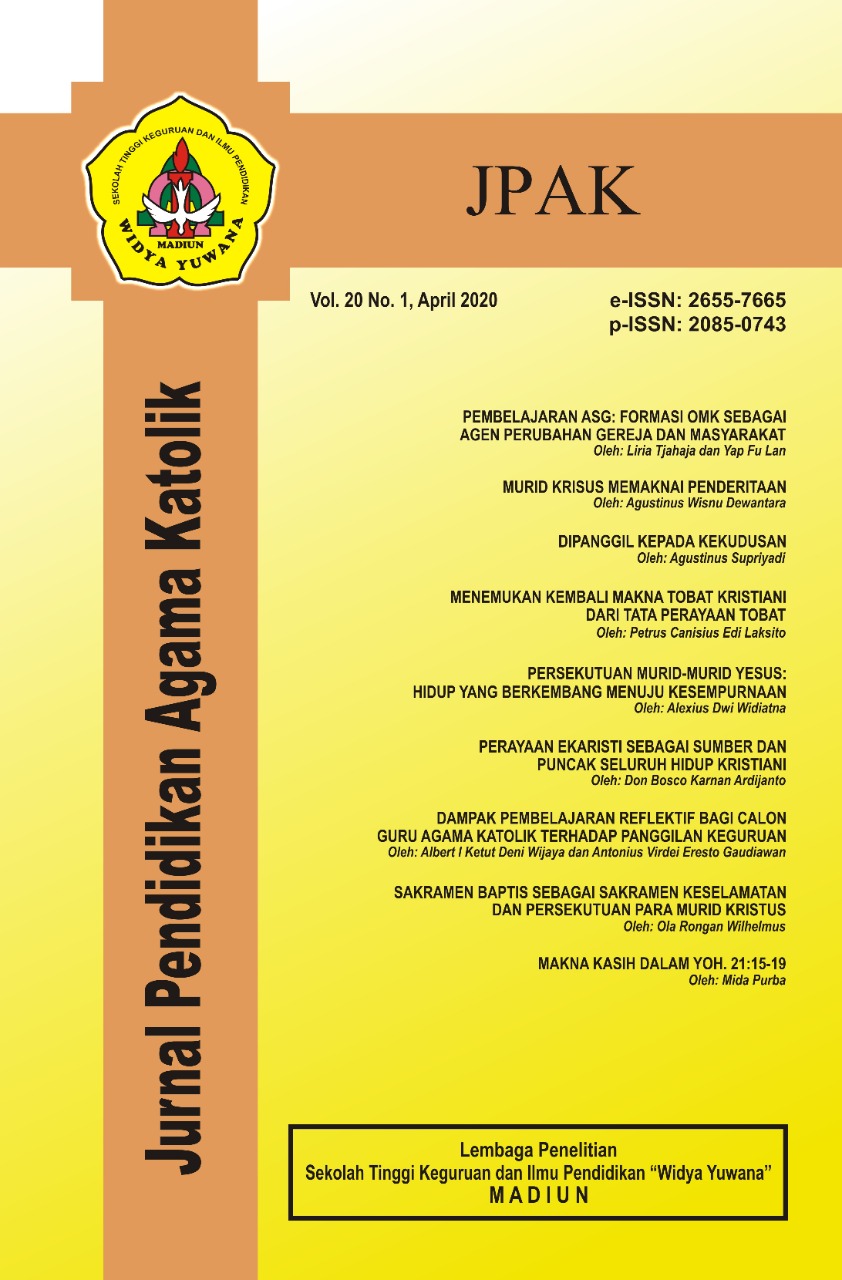 Copyright (c) 2020 Albert I Ketut Deni Wijaya, Antonius Virdei Eresto Gaudiawan
This work is licensed under a Creative Commons Attribution-NonCommercial-ShareAlike 4.0 International License.

This work is licensed under a Creative Commons Attribution-NonCommercial-ShareAlike 4.0 International License