KATEKESE PENGHAYATAN EKARISTI DALAM TRADISI KENDURI UMAT PAROKI MARIA RATU DAMAI PURWOREJO MALANG: ANALISIS SHARED PRAXIS APPROACH MENURUT THOMAS H. GROOME
Thomas Onggo Sumaryanto

STFT Widya Sasana

Antonius Denny Firmanto

STFT Widya Sasana Malang
Keywords:
catechesis, kenduri, eucharist, shared praxis, Groome
Abstract
This study focuses on the implementation of the Eucharistic appreciation catechesis in the tradition of kenduri by the Parish of Maria Ratu Damai Purworejo Malang. This research method is qualitative with a critical analysis approach. Researchers will use data from pastoral year reports which are the result of direct observation. The formulation of the problem to be answered is how the implementation of catechesis through kenduri in the light of the shared praxis approach according to Groome. Researchers found that the tradition of kenduri carried out by the parishioners of Maria Ratu Damai is indirectly a catechesis of the Eucharistic appreciation. Catechesis is carried out using symbols. The praxis dimension is very visible in the ujub-ujub (prayer) that the leader makes. However, the share dimension is still not strong enough. Therefore, the researcher provides a suggestion to carry out a deepening of faith with a shared praxis approach to strengthen the share dimension.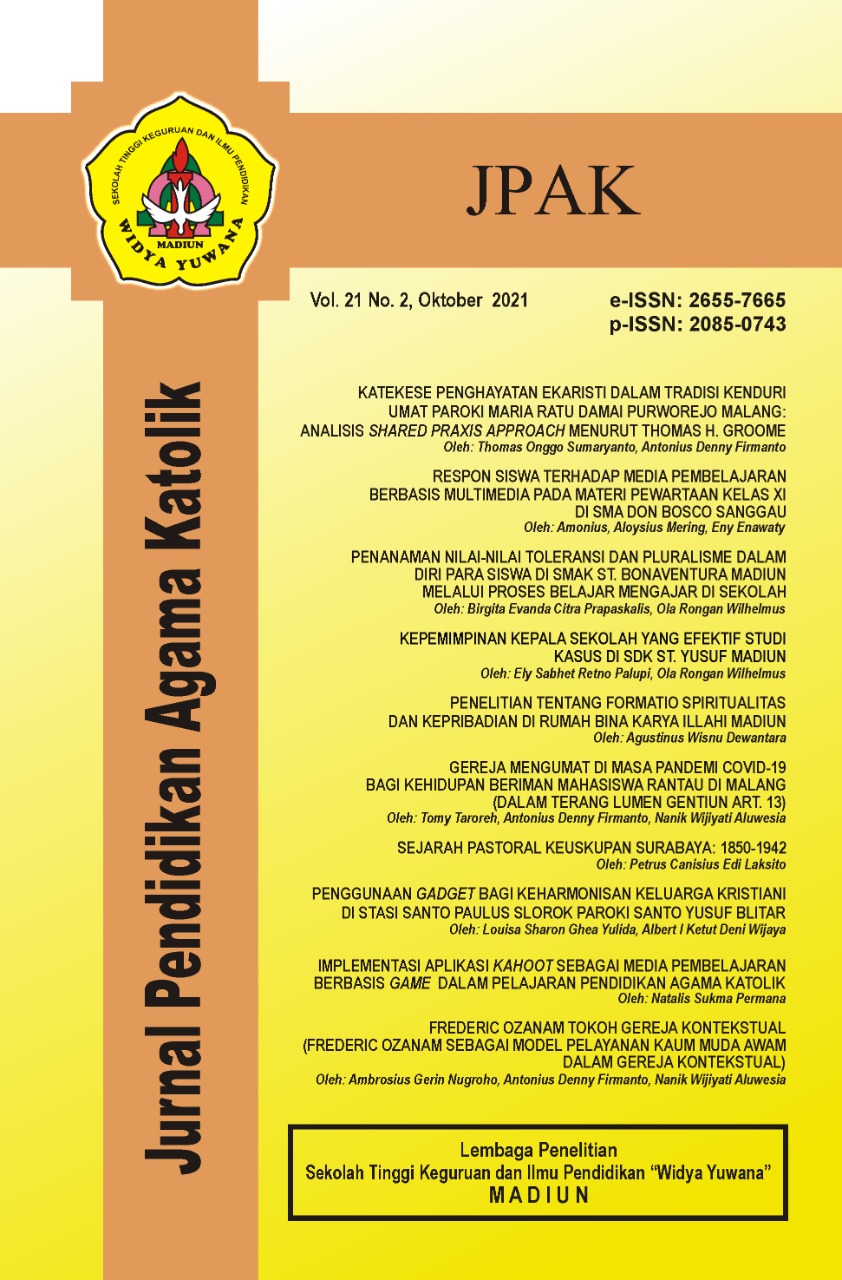 Copyright (c) 2021 Thomas Onggo Sumaryanto, Antonius Denny Firmanto
This work is licensed under a Creative Commons Attribution-NonCommercial-ShareAlike 4.0 International License.

This work is licensed under a Creative Commons Attribution-NonCommercial-ShareAlike 4.0 International License