GEREJA MENGUMAT DI MASA PANDEMI COVID-19 BAGI KEHIDUPAN BERIMAN MAHASISWA RANTAU DI MALANG (DALAM TERANG LUMEN GENTIUN ART. 13)
Tomy Taroreh

Mahasiswa STFT Widya Sasana Malang

Antonius Denny Firmanto

STFT WIDYA SASANA MALANG

Nanik Wijiyati Aluwesia

STFT WIDYA SASANA MALANG
Keywords:
Church Mission, Youth, Corona Virus, God's People, Catholic
Abstract
The church is called catholic because it is open and intended for anyone. The presence of the Church during the Covid-19 Pandemic should really be felt in the life of faith, especially for Catholic students who have migrated to Malang. The church must not shut down and avoid the needs of God's people, despite the compelling circumstances of the era. The church must be committed to God's mission in a creative way, which is to spread the gospel throughout the world. In research on the presence of the church in the pandemic time Covid-19 for belief life, overseas catholic students in Malang will use the questionnaire method to obtain data. The questionnaire is for Catholic students who have migrated to Malang. The results of the study showed that most of the Catholic students understand about the Corona Virus Pandemic and most of them live in rented houses. The church still feels that it continues to try to greet them even though the situation is not supportive, even for students who migrate to Malang. Students actually feel a sense of abandonment because of a pandemic that never ends and which causes church life to not return to normal soon.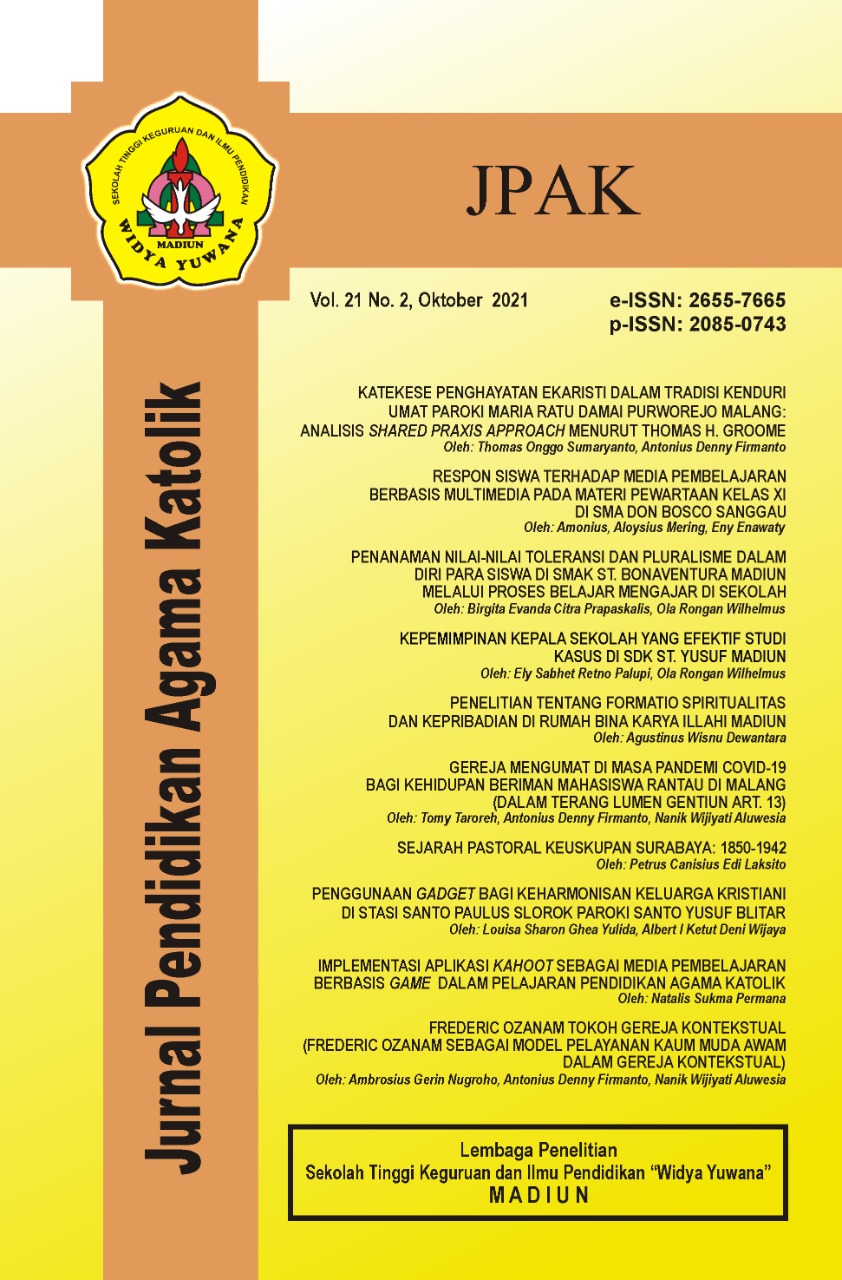 Copyright (c) 2021 Tomy Taroreh, Antonius Denny Firmanto, Nanik Aluwesia Wijayanti
This work is licensed under a Creative Commons Attribution-NonCommercial-ShareAlike 4.0 International License.

This work is licensed under a Creative Commons Attribution-NonCommercial-ShareAlike 4.0 International License