PLANTATIO ECCLESIAE DAN PAROKI MISIONER DALAM ARDAS KEUSKUPAN SURABAYA 2020-2030
Petrus Canisius Edi Laksito

STKIP Widya Yuwana
Keywords:
Plantatio Ecclesiae, parish, missionary, Diocese of Surabaya
Abstract
Plantatio Ecclesiae is a particular term elaborated in missiology in the first half of the 20th century, and then used by the Vatican Council II in the decree on the mission activity of the Church Ad Gentes (1965) to designate the definition of mission and its goal, as well. From this perspective, it is believed that mission is not merely a question about converting souls and, therefore, bringing them to eternal salvation, but especially a "plantation of the Church" in the lands not yet touched by christian faith. Thus, mission is not only about individual salvation, but particularly about the formation of new christian communities comprised of indigenous people with their own hierarchical leaders, who live their own native values and culture contributing themselves for the local development and the good of their own society, enlightened by christian faith and strengthened by christian love. Being used to determine the ideal of a missionary parish in the Basic Orientation (Arah Dasar) of the Diocese of Surabaya 2020-2030, this term is important to be studied. This study tries to learn how the ideal of a missionary parish, seen from the perspective of plantatio Ecclesiae theology, could be realized by the Catholic Church of the Diocese of Surabaya in the years to come.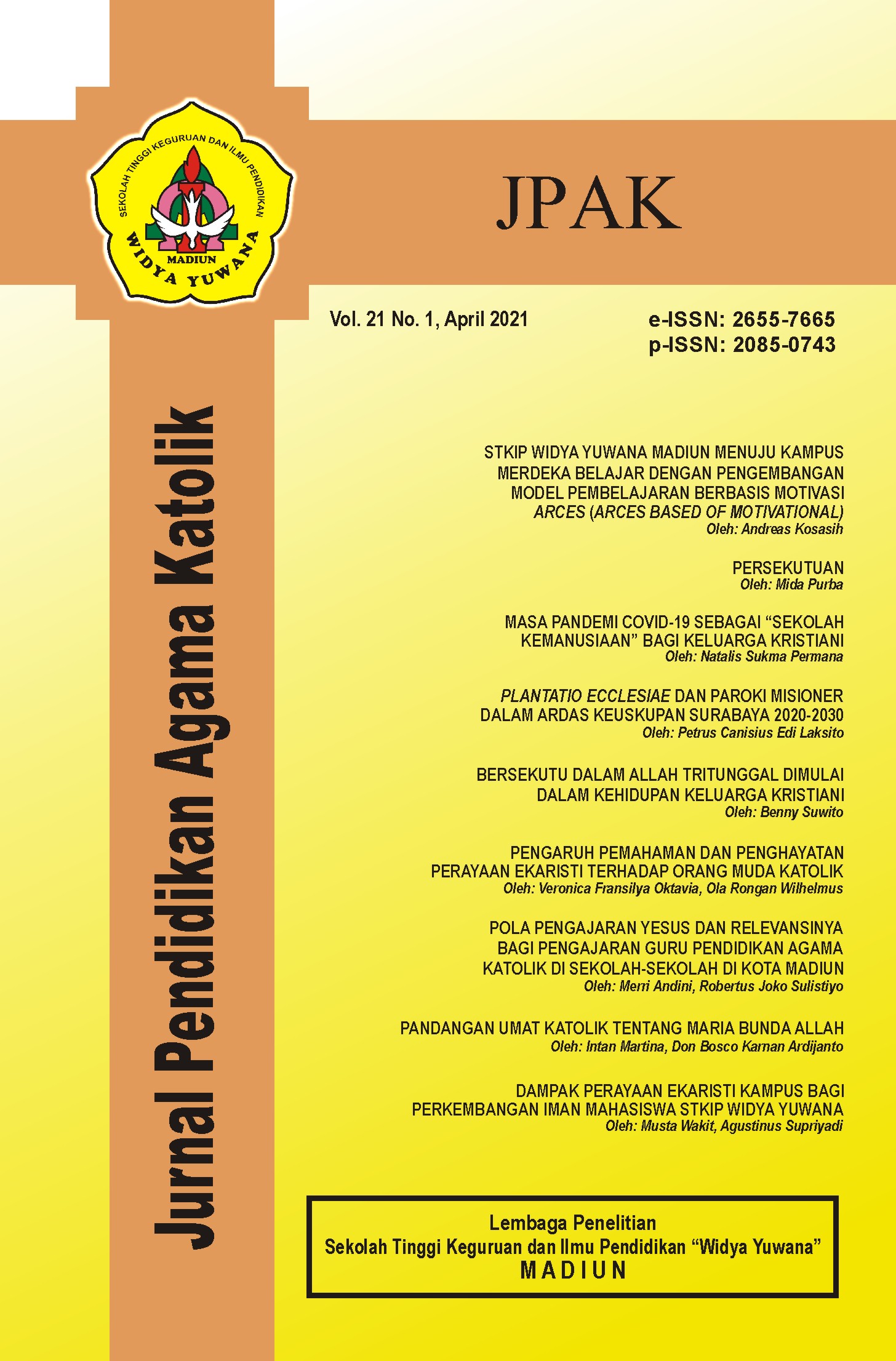 Copyright (c) 2021 Petrus Canisius Edi Laksito
This work is licensed under a Creative Commons Attribution-NonCommercial-ShareAlike 4.0 International License.

This work is licensed under a Creative Commons Attribution-NonCommercial-ShareAlike 4.0 International License