BERIMAN DI TENGAH PANDEMI COVID-19: ANTARA BERSIKAP SKEPTIS ATAU BERSERAH (SURRENDER) KEPADA ALLAH
Juli Antonius Sihotang

Sekolah Tinggi Filsafat Teologi Widya Sasana, Malang
Keywords:
uncertainty of life, hardship, suffering, love, faithfulness, covenant
Abstract
This article aims to explore and describe the faithful life of God's people during the Covid-19 pandemic that has occurred until now. The pandemic has created new problems and sufferings in human (faith) life, which not only shakes the physical life but also the life of faith. The anxiety that existed was then explored through the formulation of the problem: how is the process of faith being lived by mankind amid the current Covid-19 pandemic? To find answers to the existing problems, the author will collect various data through literature studies and analyze qualitatively by studying books on faith (especially in the teachings of the Catholic faith), journal articles, and other sources related to the author's theme. Based on the formulation of the existing problems, the authors found that having faith in the Covid-19 pandemic means surrendering (surrender) to God because being skeptical in faith is nothing but a sign that faith only stops in the mouth and without reflection of faith so that it does not grow again and bear fruit in life when faced with the difficulties, challenges, and sufferings of life. Everyone who believes in God is required to deny himself, take up his cross daily, and follow Him in all the impossibilities that occur. God will never leave let alone stop loving humans because before birth He has written our names on the palms of His hands.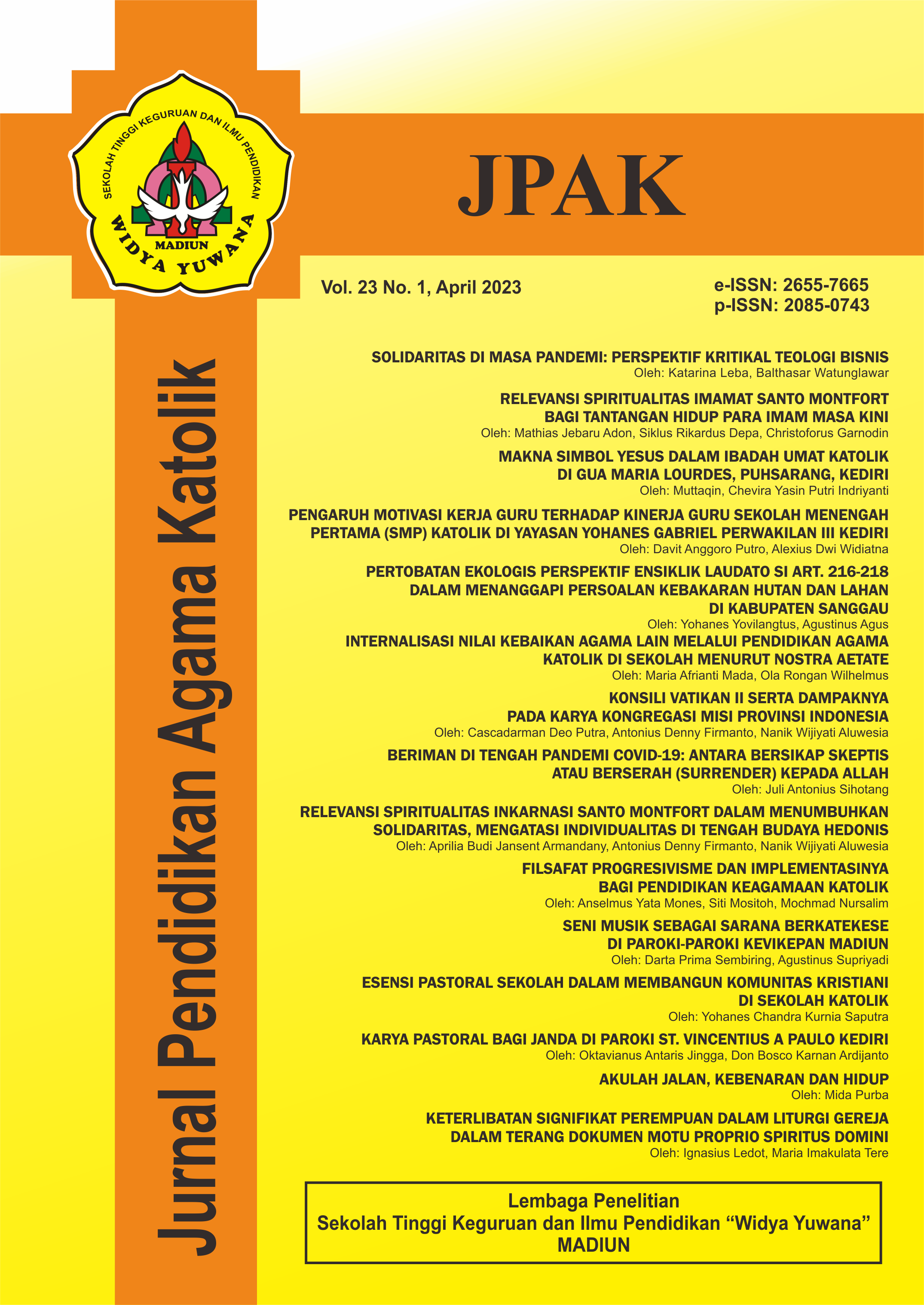 Copyright (c) 2023 Juli Antonius Sihotang
This work is licensed under a Creative Commons Attribution-NonCommercial-ShareAlike 4.0 International License.

This work is licensed under a Creative Commons Attribution-NonCommercial-ShareAlike 4.0 International License