RELEVANSI SPIRITUALITAS INKARNASI SANTO MONTFORT DALAM MENUMBUHKAN SOLIDARITAS, MENGATASI INDIVIDUALITAS DI TENGAH BUDAYA HEDONIS
Aprilia Budi Jansent Armandany

STFT Widya Sasana Malang

Antonius Denny Firmanto

Sekolah Tinggi Filsafat Teologi Widya Sasana

Nanik Wijiyati Aluwesia

Sekolah Tinggi Filsafat Teologi Widya Sasana
Keywords:
Incarnation spirituality, Saint Louis Marie de Montfort, Solidarity
Abstract
The purpose of this paper is to examine the incarnation spirituality of Saint Louis Marie de Montfort and its relevance in today's hedonic culture. The background of this paper is the increasingly rapid development of technology and economics which has spawned the seeds of egoism and killed the spirit to live caring for each other and the attitude of solidarity in living together. The method used in this paper is the historical-factual-critical analysis method. Meaning, the author will explore Montfort's writings that talk about the Incarnation, then analyze them based on their historical context and confront them with contemporary theological reflections. Subsequently, logical conclusions will be drawn to answer the questions raised. Based on the analysis obtained, Montfort's Incarnation spirituality is still relevant for the Church today. The fact that the Incarnation spirituality he elaborated finds its origine in God who showed solidarity towards humans, by itself invites the Church and all humanity to cultivate a spirit of solidarity.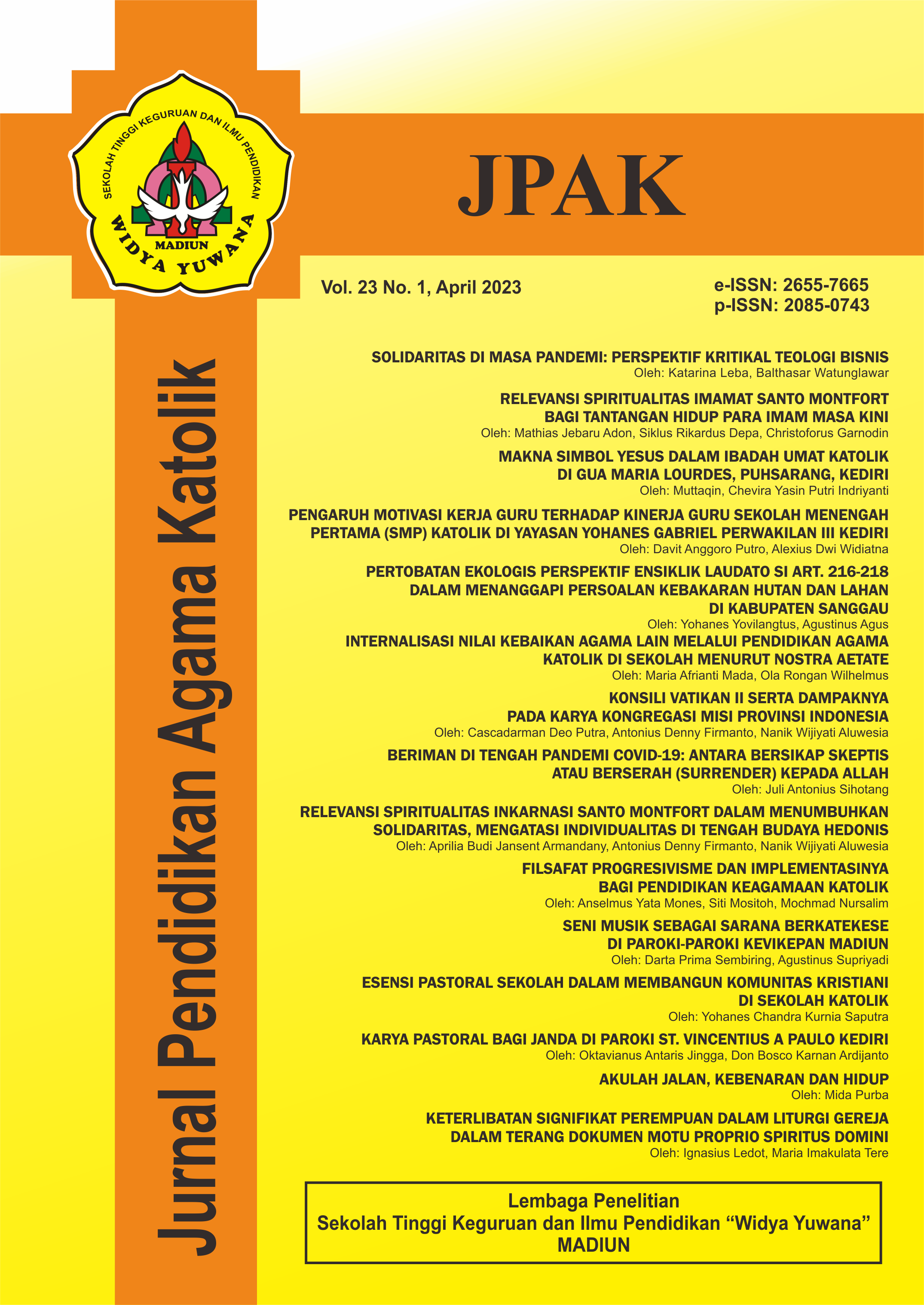 Copyright (c) 2023 Aprilia Budi Jansent Armandany, Antonius Denny Firmanto, Nanik Wijiyati Aluwesia
This work is licensed under a Creative Commons Attribution-NonCommercial-ShareAlike 4.0 International License.

This work is licensed under a Creative Commons Attribution-NonCommercial-ShareAlike 4.0 International License