RELEVANSI SPIRITUALITAS IMAMAT SANTO MONTFORT BAGI TANTANGAN HIDUP PARA IMAM MASA KINI
Mathias Jebaru Adon

Sekolah Tinggi Filsafat Widya Sasana Malang

Siklus Rikardus Depa

Sekolah Tinggi Filsafat Teologi Widya Sasana Malang

Christoforus Garnodin

Sekolah Tinggi Filsafat Teologi Widya Sasana Malang
Keywords:
Priesthood, Self-dedication, Service
Abstract
The focus of the discussion in this paper lies in the relevance of priesthood spirituality initiated by St. Montfort about the priest of today. Montfort in his prayer wanted a priest who was by the desires of God's heart. A priest who is not controlled by self-love, but who is always focused on God. The priest who has no worldly or special personal relationships because the priest is called to serve all people is not attached to a property, without problems and problems and even without a personal will. This is important to study because the reality shows that the life of the priest today tends to be inconsistent with his identity as in persona Christi. Many priests and even bishops fall into cases of sexual abuse and misuse of money. The goal is clear that today's priests are aware of their essence and identity as Christ who is present amid the world. Priests are called to present Christ. Thus their lives must be like Christ, living and applying these values ​​in their lives and ministries. The method used in this paper is qualitative research by conducting a literature study.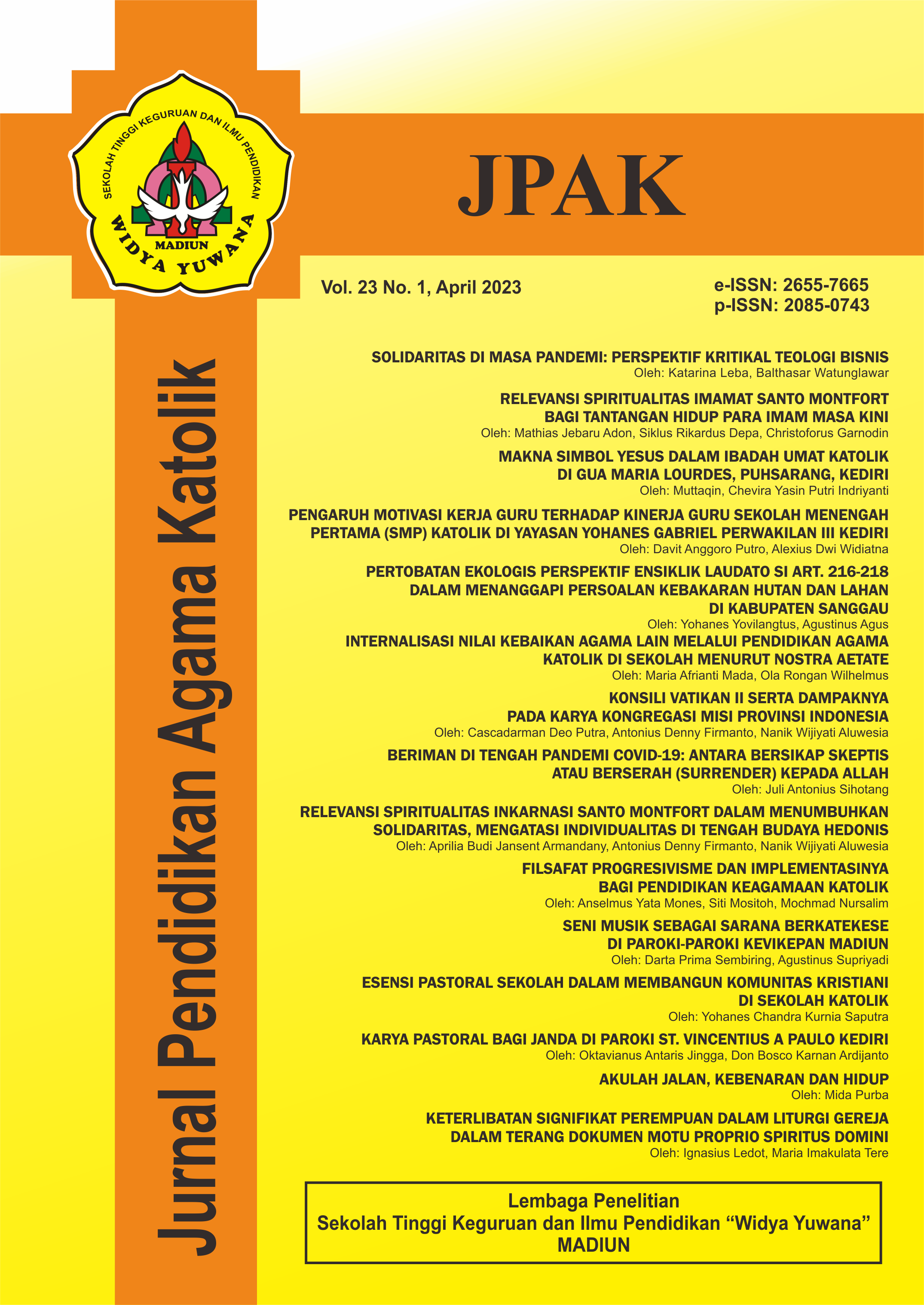 Copyright (c) 2022 Mathias Jebaru Adon, Siklus Rikardus Depa, Christoforus Garnodin
This work is licensed under a Creative Commons Attribution-NonCommercial-ShareAlike 4.0 International License.

This work is licensed under a Creative Commons Attribution-NonCommercial-ShareAlike 4.0 International License