MAKNA SIMBOL YESUS DALAM IBADAH UMAT KATOLIK DI GUA MARIA LOURDES, PUHSARANG, KEDIRI
Muttaqin Muttaqin

Universitas Darussalam Gontor

Chevira Yasin Putri Indriyanti

Universitas Darussalam Gontor
Keywords:
The Catholic Church, the Way of the Cross, Meaning, Symbol
Abstract
The Catholic Church of Santa Maria Lourdes, Puhsarang, Kediri, is one of the churches of the last architectural works of Henri Meclaine Pont, has a section of the Maria Lourdes Cave and a statue of the Golgotha ​​Cross with a different shape from other Catholic churches. Until now the Puhsarang church has become a place of pilgrimage for Catholics in worship as well as being a religious tourism object. With the shape of the symbol of the way of the cross made with a larger size than other churches. To find out the meaning contained in the symbol of the Way of the Cross, the researcher used the approach based on Clifford Greetz's symbol theory, namely the anthropological approach which was carried out by means of field research and the research results were obtained from observations and interviews.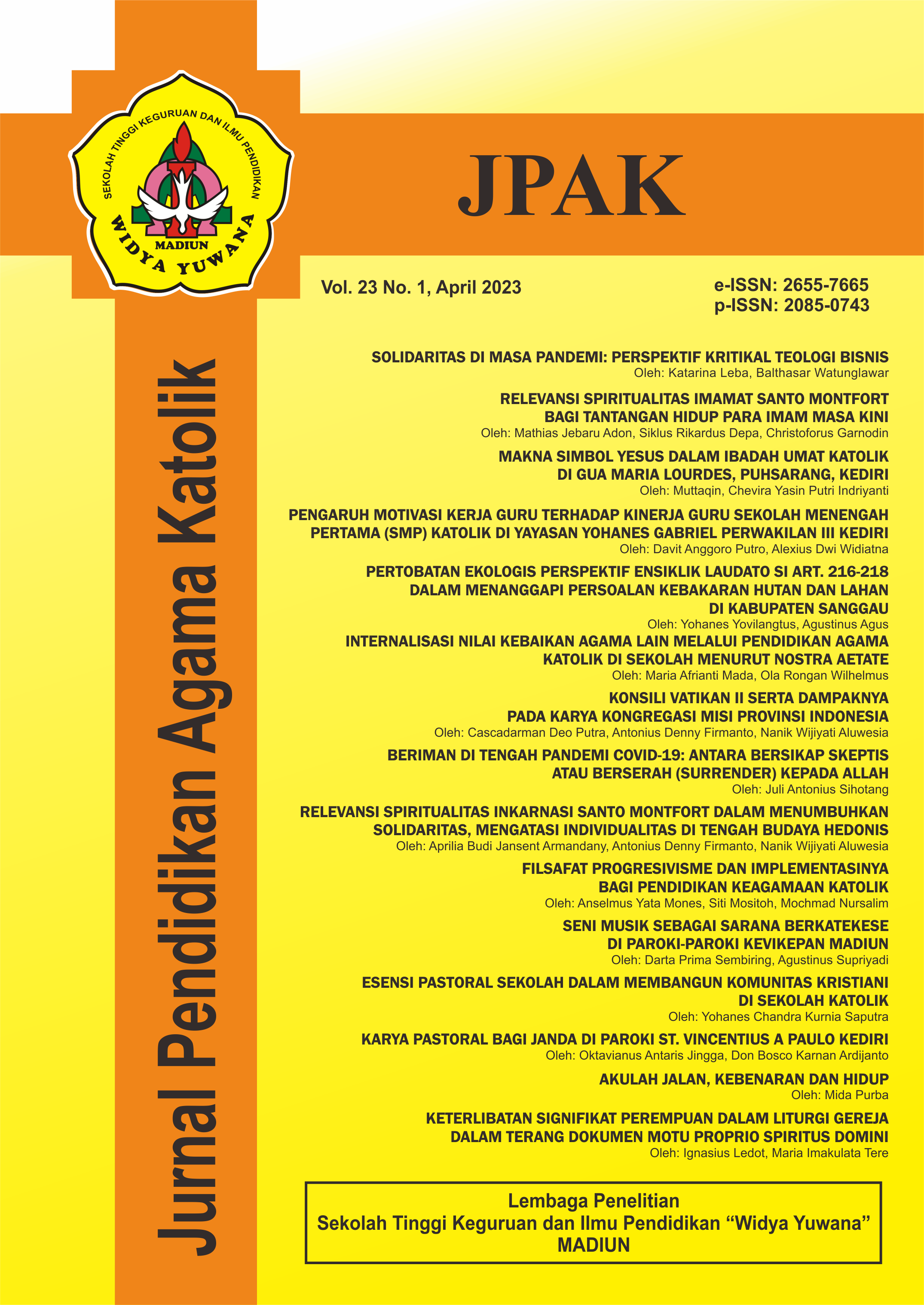 Copyright (c) 2022 Muttaqin Muttaqin, Chevira Yasin Putri Indriyanti
This work is licensed under a Creative Commons Attribution-NonCommercial-ShareAlike 4.0 International License.

This work is licensed under a Creative Commons Attribution-NonCommercial-ShareAlike 4.0 International License