PENGARUH MOTIVASI KERJA GURU TERHADAP KINERJA GURU SEKOLAH MENENGAH PERTAMA (SMP) KATOLIK DI YAYASAN YOHANES GABRIEL PERWAKILAN III KEDIRI
Keywords:
Teacher Perfomance, Teacher Work Motivation
Abstract
The purpose of this study is to point out the influence of teacher work motivation on the teacher performance of Catholic Junior High School (JHS) at the Yohanes Gabriel Foundation III Representative Kediri. In this study, researchers used a quantitative approach with a survey method. The population in this study were all Catholic Junior High School (JHS) teachers at the Yohanes Gabriel Representative III Kediri Foundation which were collected from 58 teachers. Saturated Sampling technique is used as a technique for displaying samples, so that the entire population becomes a sample. Data were collected using a questionnaire which was distributed directly to the teachers. The data collected was analyzed using a simple linear regression analysis technique with the help of the SPSS Version 26 program. The results of this study support the research hypothesis, namely that teacher work motivation has a positive and significant effect on teacher performance. Teacher's work motivation contributed 26.8% to the teacher's performance, so the remaining 73.2% was influenced by other factors outside the study. The results of this study are useful as material for evaluation and consideration of the Yohanes Gabriel Foundation Representative III Kediri in managing schools.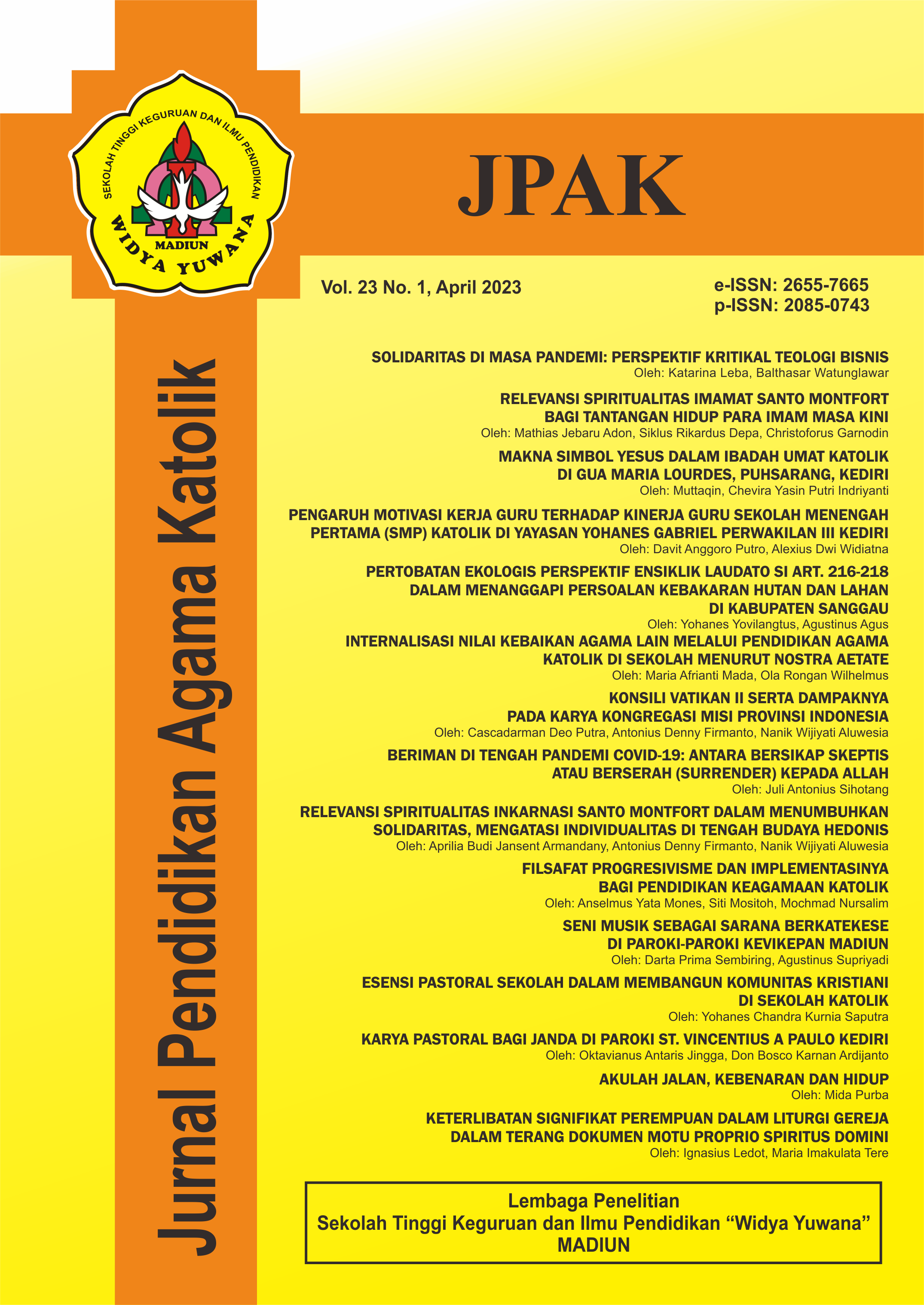 Copyright (c) 2022 Davit Anggoro Putro, Alexius Dwi Widiatna
This work is licensed under a Creative Commons Attribution-NonCommercial-ShareAlike 4.0 International License.

This work is licensed under a Creative Commons Attribution-NonCommercial-ShareAlike 4.0 International License