KETERLIBATAN SIGNIFIKAT PEREMPUAN DALAM LITURGI GEREJA DALAM TERANG DOKUMEN MOTU PROPRIO SPIRITUS DOMINI
Ignasius Ledot

Institut Filsafat dan Teknologi Kreatif (IFTK) Ledalero

Maria Imakulata Tere

Maria
Keywords:
Church liturgy, lector, acolyte, women's roles
Abstract
The ministry work in the Church presupposes the involvement of all the faithful in the liturgy of the Church. Women have an important role in the Church's liturgy, namely lectors and acolytes. This article discusses the role of women in the liturgy in the Church in Flores - NTT which is dominated by patriarchal culture. This study uses a qualitative phenomenology method to explore the meaningfulness of the theme from the women's perspective. There were 21 respondents consisting of women who work as lecturers and IFTK Ledalero students. The result of the study show that gender bias due to the influence of patriarchal culture does not prevent women from participating in the Church's liturgy. Even though they do not have a legal umbrella yet, the Church in Indonesia especially in Flores, has open up opportunity for women to be involved in the liturgy. Pope Francis' action to amend the canons of canon 230 § 1, is an act of respect for women, specifically the role of women in the liturgy of the Church. Even though the pope's actions can be considered too late for the context of the Church in Indonesia, the impact of this decision has made the women of NTT, especially in Flores, who are members of the Church, increasingly believe in the struggle to present a better world from the reality of male domination in cultural and social life. church today that feels established and comfortable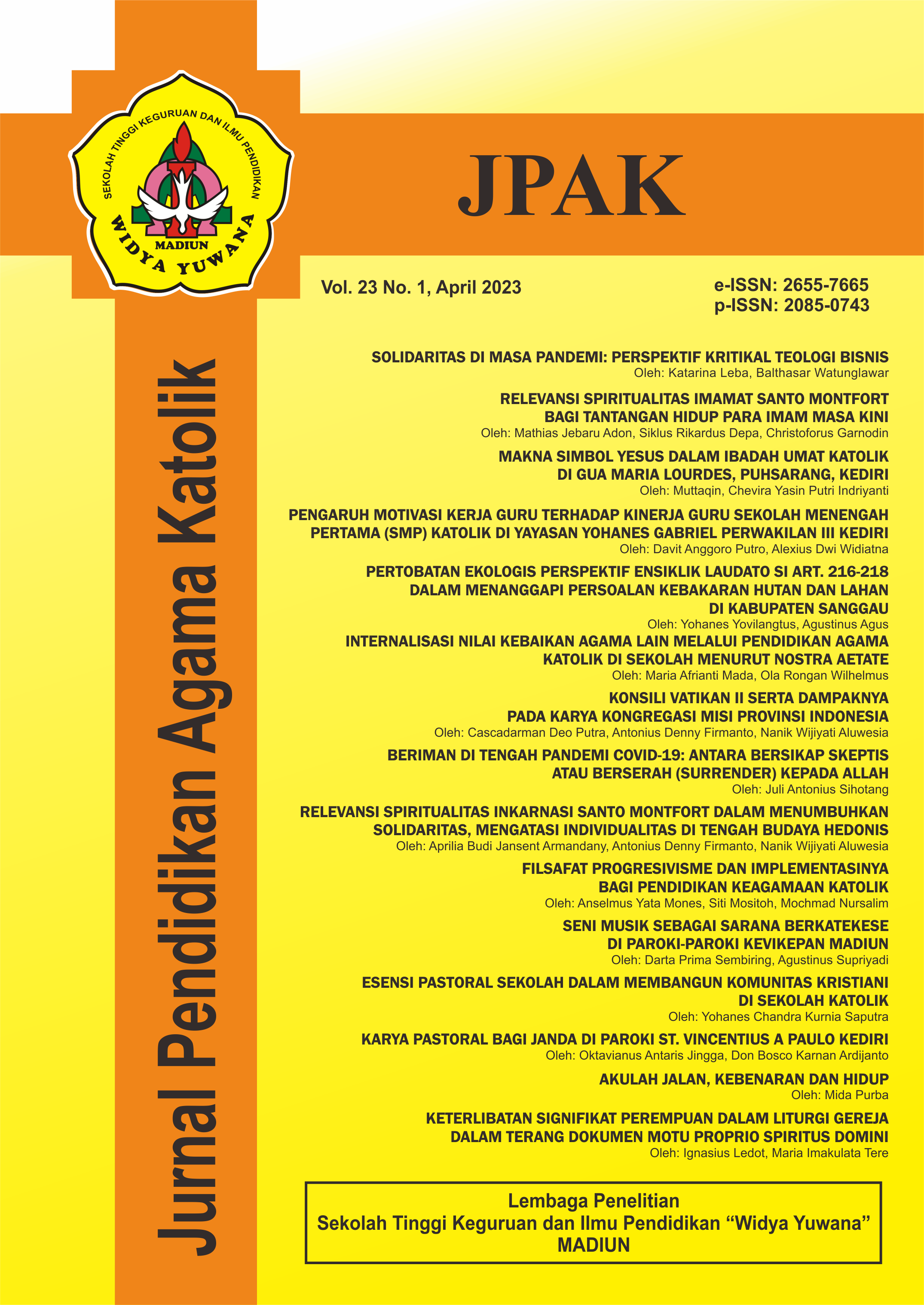 Copyright (c) 2023 Ignasius Ledot, Maria Imakulata Tere
This work is licensed under a Creative Commons Attribution-NonCommercial-ShareAlike 4.0 International License.

This work is licensed under a Creative Commons Attribution-NonCommercial-ShareAlike 4.0 International License