PEMAHAMAN UMAT KATOLIK MADIUN TERHADAP KONSTITUSI GAUDIUM ET SPES DALAM KEHIDUPAN POLITIK PRAKTIS
Mr Kasimirus

STKIP Widya Yuwana

Agustinus Wisnu Dewantara

STKIP Widya Yuwana
Keywords:
Gaudium et Spes, Politics Praxis, Catholics
Abstract
Apolitical praxis has been grown widely. Being a qualified Catholic politician is a fundamental matter because it serves as a mediator between Church and state. A Catholic politician comprhensive understanding'son GS is one of parameters for a qualification to involve in social and political practices. The research was designed to answer some fundamental guestions as the following: How far the Catholics in Madiun understand about the document of GS on political praxis? This research conducted by using a qualitative method. The results of research showed that 100% respondents were knowing about GS, although some of them did not deeply knowing. Respondents then disclosed that the contents of GS was related to both divine and human vocation to participate and being responsible in social and political life for human well-being (62,5%). According to respondents, bonum commune was main goal of the Catholic Church's involvement in social and political praxices (75%). The result all of research showed that the formation for social and political addres can be be started from the familly pastoral ministry, and to introduce such Christian social and political values for Catholic faithful started from the early ages.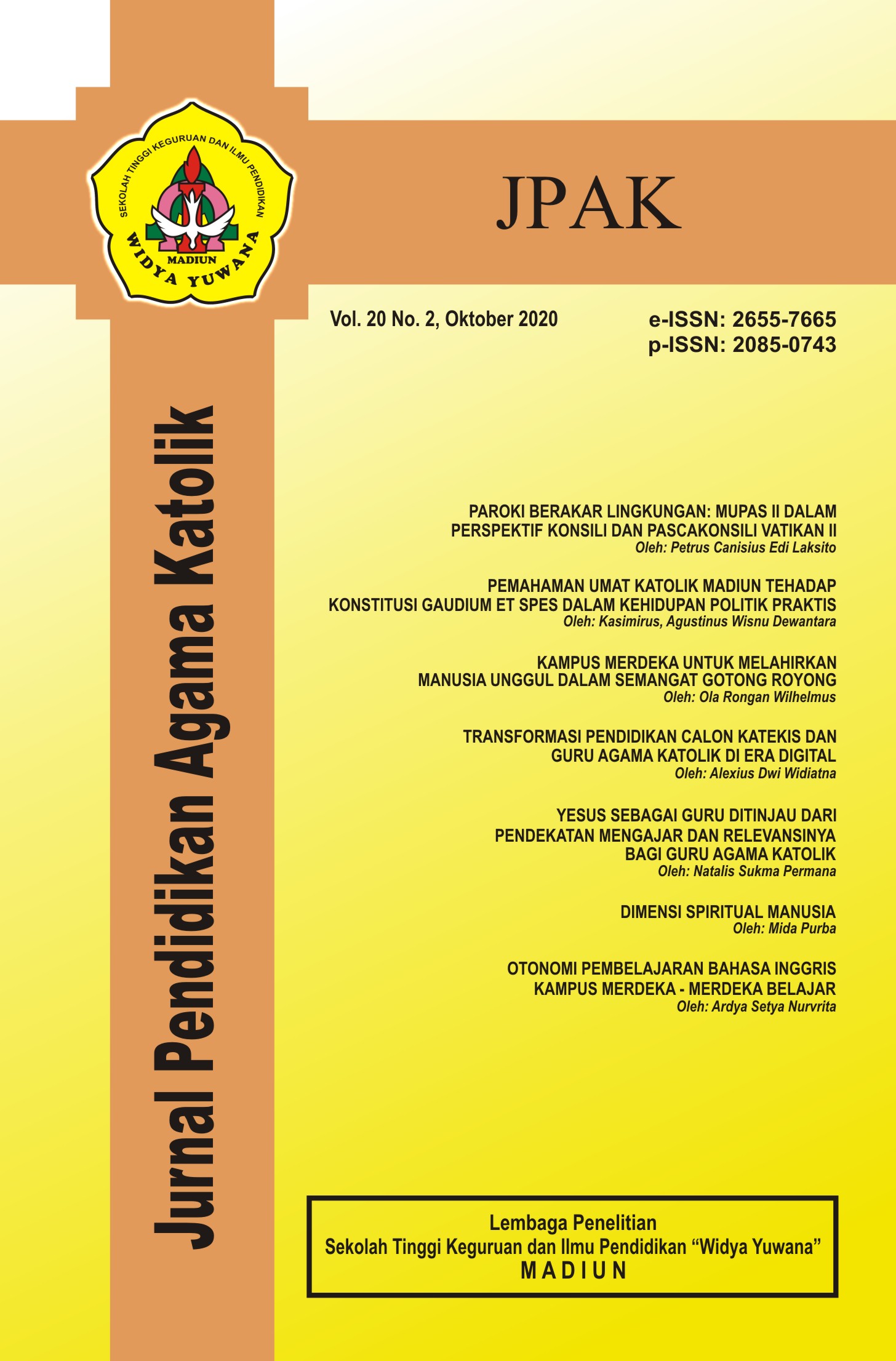 Copyright (c) 2020 Mr Kasimirus, Agustinus Wisnu Dewantara
This work is licensed under a Creative Commons Attribution-NonCommercial-ShareAlike 4.0 International License.

This work is licensed under a Creative Commons Attribution-NonCommercial-ShareAlike 4.0 International License