FREDERIC OZANAM TOKOH GEREJA KONTEKSTUAL (FREDERIC OZANAM SEBAGAI MODEL PELAYANAN KAUM MUDA AWAM DALAM GEREJA KONTEKSTUAL)
Ambrosius Gerin Nugroho

STFT Widya Sasana Malang

Antonius Denny Firmanto

STFT Widya Sasana Malang

Nanik Wijiyati Aluwesia

STFT Widya Sasana Malang
Keywords:
Church, Vincentian, Contextual, Youth, Spirit
Abstract
The church is essentially open. An open church is a church that is able to move contextually in the midst of the world. The contextual church is manifested in a ministry driven by a holy figure in the Church, namely Frederic Ozanam. Frederic Ozanam who is known as a student has great concern for those who are poor and need a helping hand. Through this spirit of service, a small union was born which of course has the intention of helping the poor. That union was the Vincentian Social Union (SSV). The whole work of God's salvation that is present through Frederic Ozanam makes it a model of service for all the young people of the Church. This is because Frederic Ozanam himself is still very young. Young people are certainly the pillars of the life of the Church. This spirit is certainly strengthened by the Church's view which believes that the youth of the Church are the foundation and reformer of the contextual Church's life.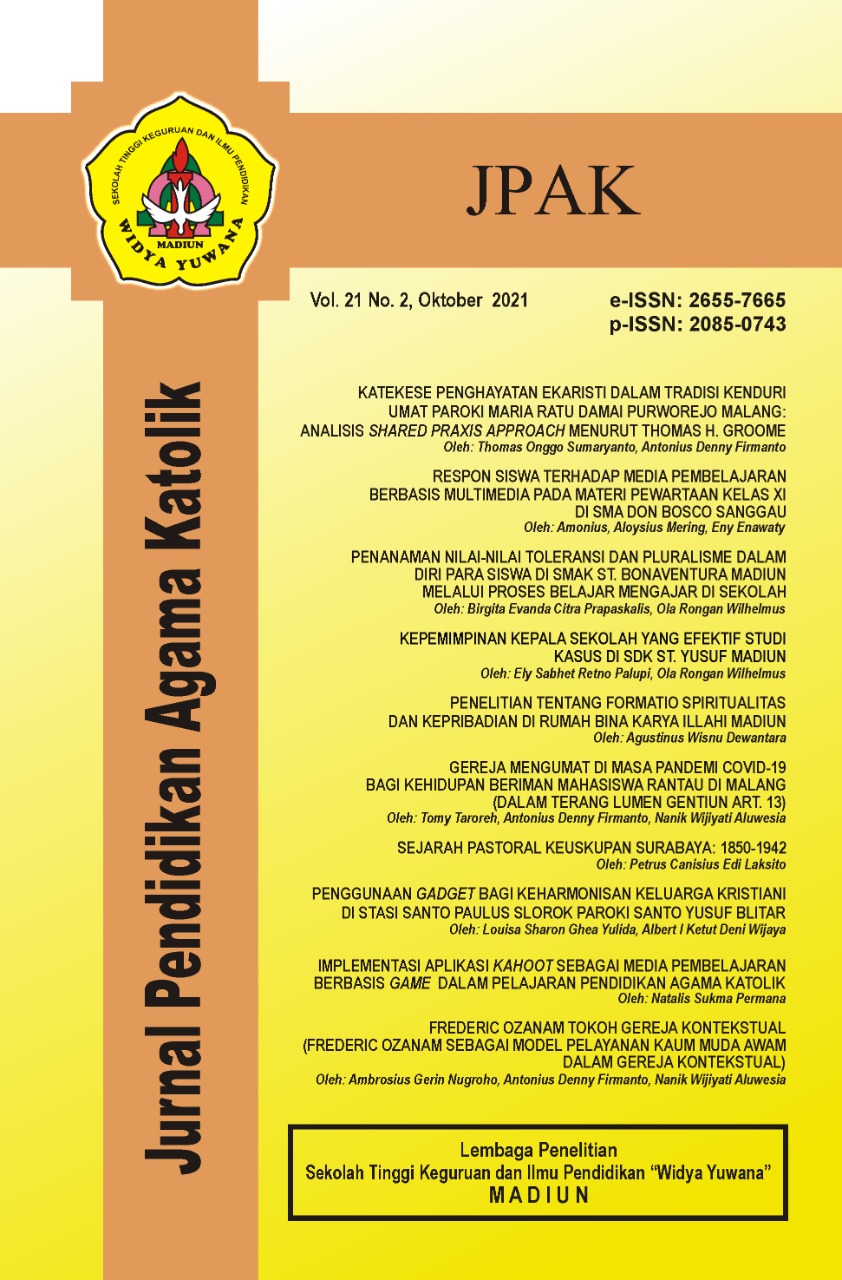 Copyright (c) 2021 Ambrosius Gerin Nugroho, Antonius Denny Firmanto, Nanik Widjianto Aluwesia
This work is licensed under a Creative Commons Attribution-NonCommercial-ShareAlike 4.0 International License.

This work is licensed under a Creative Commons Attribution-NonCommercial-ShareAlike 4.0 International License